Pride Schedule
| Event | Date |
| --- | --- |
| 2015 Picnic | Sat, Jun 6 |
| 2015 LGBT Unit in Millcreek 4th of July Parade | Sat, Jul 4 |
| 2015 Pride Fest | Sat, Aug 29 |

We would like to invite you to take
a new survey
about your opinions and preferences, from an LGBT perspective. There's power in our Pride! Participating in this study helps open doors-and minds-around the world, and influences positive changes for our community. Previous surveys have yielded 45,000 respondents from 150 countries! You may have seen Community Marketing & Insights quoted in the
New York Times
,
USA Today
,
Wall Street Journal
, etc.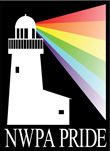 As the
Northwest PA (NW PA) Pride Alliance
begins its fifth year, we are delighted to see how much we have grown. The support of individuals and organizations in our community has been the catalyst for furthering the Alliance's mission: Improving the visibility of the LGBTQIA community and facilitating communication and collaboration between groups and individuals. We are asking for your support in 2015.
---
Pride Photos
---
2015 Major Donors - Thanks!
Violet
Blue