Pride Schedule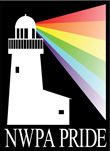 NW PA Pride Alliance will be accepting design entries through March 1 for the 2017 Pride logo. The theme for 2017 Pride is "25 Years of Pride!" We hope that your design will include the official Pride theme. This year's Pride Picnic will be the 25th anniversary

On Tuesday, December 6, 2016,
NW PA Pride Alliance
and
Dramashop
held Painting With Pride 2, a joint fundraiser at Dramashop, 1001 State St, Erie PA. Thanks go out to Angela, our instructor, and
Dickey's Barbecue Pit
for the use of tables. The event was well attended and very enjoyable.
---
Pride Photos
---
2016 Major Donors - Thanks!
Violet
Blue