Pride Schedule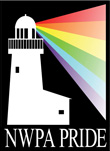 NW PA Pride Alliance
invites you to participate as a table at this year's Pride Fest! The event will be held on Saturday, June 30 from 1 to 4 PM in Perry Square at W. 6th and State, Erie PA. Set-up will begin at 11AM.
PLEASE NOTE:
step off for the parade and the start of Pride Fest are 1 hour earlier this year than previous years! All tables are expected to remain set up until the end of the festival. Registering for tables for those who had a table at last year's Pride Fest began in January, and table registration for everyone else begins on March 1.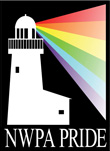 This year
the Northwest Pennsylvania Pride Alliance Inc
is already hard at work to make 2018 special for the entire community. We look forward to having our Pride Fest on June 30, the Pride Picnic on August 11, and other events planned throughout the year. The support of individuals and organizations in our community has been the catalyst for furthering the Alliance's mission: Improving the visibility of the LGBTQIA community and facilitating communication and collaboration between groups and individuals. We are asking for your support in 2018 as we celebrate Pride in NWPA. Donors like you make it possible for the Alliance to organize, sponsor, and/or host events such as the Pride Festival and the Pride Picnic. The Alliance also participates in various community events to promote awareness of LGBTQIA issues, and supports the efforts and activities of other groups dedicated to the health and wellbeing of the LGBTQIA community.
---
Pride Photos
---
2018 Major Donors - Thanks!
Violet
Blue