Pride Schedule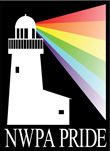 As the
Northwest PA (NW PA) Pride Alliance
begins its fifth year, we are delighted to see how much we have grown. The support of individuals and organizations in our community has been the catalyst for furthering the Alliance's mission: Improving the visibility of the LGBTQIA community and facilitating communication and collaboration between groups and individuals. We are asking for your support in 2015.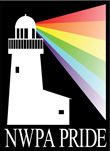 NW PA Pride Alliance Inc
and the
Mental Health Association of Northwestern PA
will be co-sponsoring
a Spring candidate forum
at the Mental Health Association at 1101 Peach St, Erie PA 16501 on Thursday, April 16, 2015 at 6:30 pm. Doors open at 5:30 and parking is available on street and in the Toni & Guy parking lot. Candidates for Erie City and Erie County councils will be invited. Candidates will be asked questions by a moderator and attendees are encouraged to provide questions for the moderator. The event provides constituents the opportunity to meet local politicians and hear their views on topics concerning the LGBTQ, mental health and Erie City & County communities as a whole.
---
Pride Photos
---
2014 Major Donors - Thanks!
Rainbow
Violet
Blue