Pride Schedule
| Event | Date |
| --- | --- |
| 2016 Pride Picnic | Sat, Jun 4 |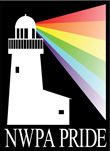 Who wants $100 and a free shirt? You do! But how?
 All you have to do is get creative: We're looking for a new T-shirt design for 2016, and we want to see what you've got. The NW PA Pride Alliance will be accepting your design entries from Dec. 1 through Feb. 29. The design we select will receive a free shirt and a $100 Visa gift card. But first, there are a few rules. Your design must be on the front of the shirt, in the area indicated on the little shirt template we'll provide. You can download the template as a
PDF (here)
, as a
PSD (here)
, or as a TIF (
here for Windows
or
here for Mac
). We will also be glad to provide you with our logo to use (or not, it's up to you) (logo is
here in color
or
here in black and white
), but you do have to use the colors in the logo in your design. The preferred format is an Adobe Illustrator Vector File (or something we can convert to that format), 300 dpi, with the canvas size being a maximum of 9 1/2" wide by 15" tall.
Please note! The theme for 2016 Pride is "Invite. Unite. Ignite!" Bonus points for including the theme in your design!

LGBT Roundtable Project: Over the past year, a steering committee from the Northwest PA Pride Alliance (NWPAPA), the Greater Erie Alliance for Equality (GEAE), and Transfamily Support of Erie have organized and held three LGBT Roundtable discussions. The committee invited leaders from various LGBT organizations from Erie and the surrounding counties. The roundtable project is off to a great start with about 15 different groups participating!
---
Pride Photos
---
2015 Major Donors - Thanks!
Violet
Blue