Pride Schedule

On Saturday, October 14, 2017, board members of
NW PA Pride Alliance
marched with members of Identity, Edinboro University's LGBTQIA+ student group in Edinboro University's annual Homecoming Parade. The theme was Superheroes.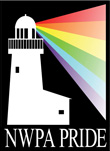 NWPA Pride Alliance
is looking for applicants to fill positions with our board of directors. NWPA Pride Alliance is seeking to diversify its membership to best address the needs of the LGBT community, persons of all sexual orientations, gender identifications, marital status, ethnic backgrounds and educational experiences are welcome to apply. All positions are unpaid, volunteer positions. We are looking for people who want to become more involved with the LGBT community, working with our members to extend outreach to the community as a whole.
---
Pride Photos
---
2017 Major Donors - Thanks!
Rainbow
Violet
Blue