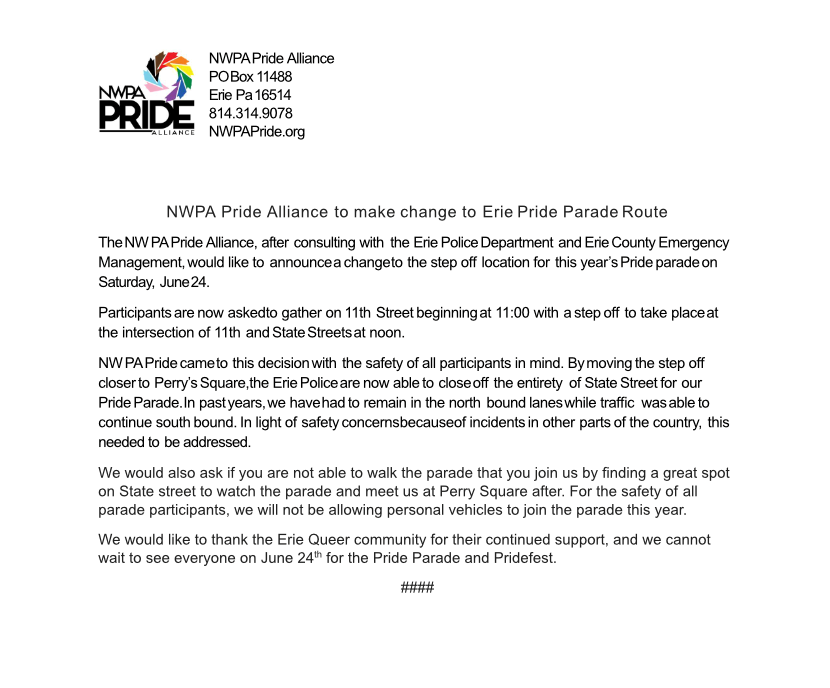 The NW PA Pride Alliance, after consulting with the Erie Police Department and Erie County Emergency Management, would like to announce a change to the step off location for this year's Pride parade on Saturday, June 24.
Participants are now asked to gather on 11th Street beginning at 11:00 with a step off to take place at the intersection of 11th and State Streets at noon.
NW PA Pride came to this decision with the safety of all participants in mind. By moving the step off closer to Perry's Square, the Erie Police are now able to close off the entirety of State Street for our Pride Parade. In past years, we have had to remain in the north bound lanes while traffic was able to continue south bound. In light of safety concerns because of incidents in other parts of the country, this needed to be addressed.
We would also ask if you are not able to walk the parade that you join us by finding a great spot on State street to watch the parade and meet us at Perry Square after. For the safety of all parade participants, we will not be allowing personal vehicles to join the parade this year.
We would like to thank the Erie Queer community for their continued support, and we cannot wait to see everyone on June 24th for the Pride Parade and Pridefest.